How to Make Money on Pinterest: 7 Best Monetization Methods in 2021
Are you wondering how to make money on Pinterest? Maybe you've heard of people making money on YouTube, Google or Facebook, and of influencers making money on Instagram. And now you're wondering if it's also possible to make money on Pinterest.
Great question! And let's cut to the chase: making money on Pinterest is possible! In fact, I also make a full-time income every month using Pinterest.
Pinterest has been my absolute best friend since I jumped on this "making money online" bandwagon. Because of this platform, I make $40,000 per year from one source alone, and some more from other sources.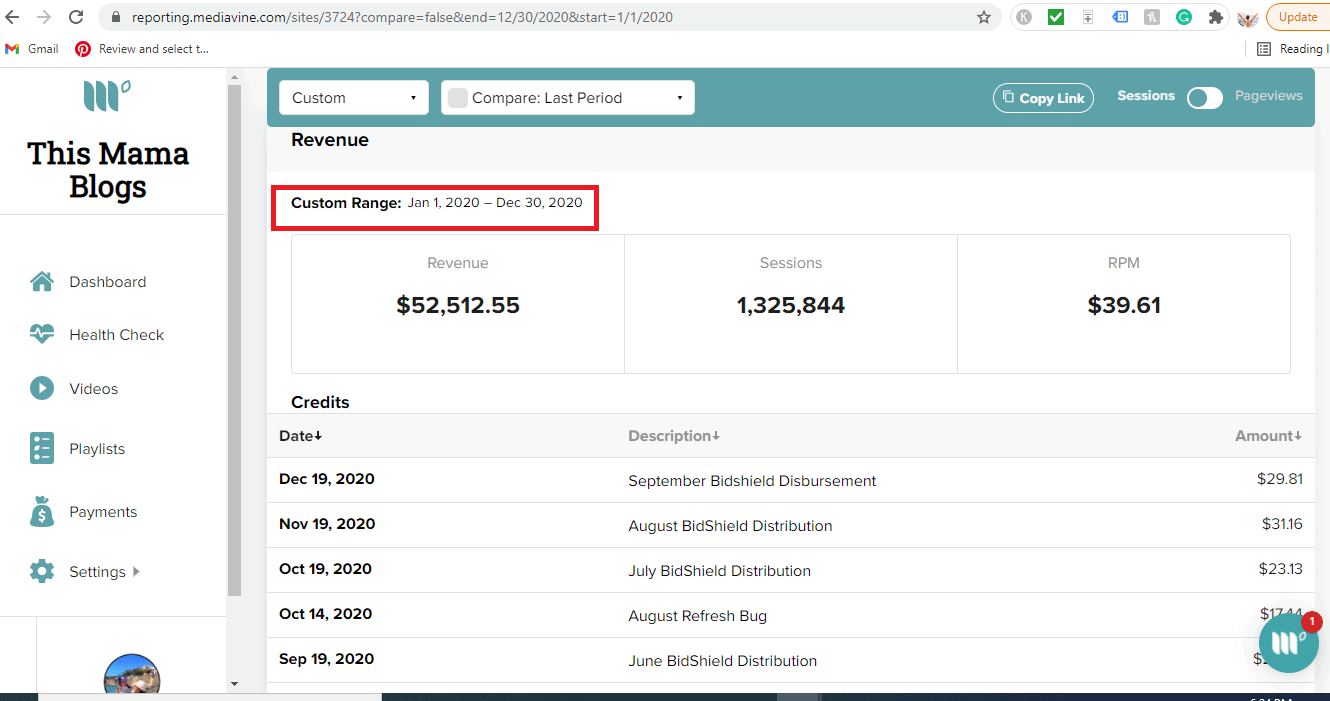 Pinterest is my main traffic source which drives 80% of this monthly traffic to my blog: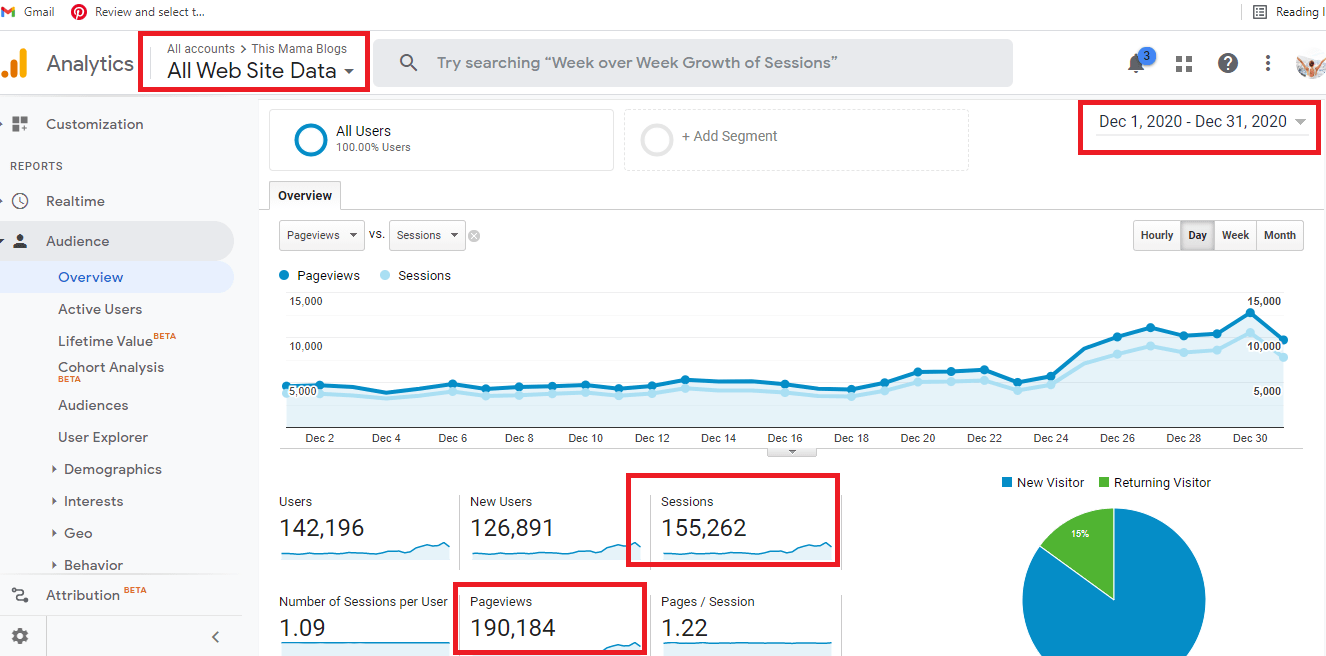 ---
First, Why Pinterest?
You might be wondering why Pinterest, in the first place. Why go to Pinterest when you can Google or YouTube almost everything? Let me break down the reasons.
According to SproutSocial, Pinterest has over 400 million active users each month. You can put Twitter and Snapchat users together, and Pinterest would still come out as the bigger platform.
Next, 60% of Pinterest users are women. Women are known to hold the household budget and make most of the purchasing decisions. What more, 80% of moms are also on Pinterest. That means putting your products and services before the "purchasers" and "decision-makers" gives you the upper hand of generating more sales.
That said, Pinterest is indeed a fantastic platform to make money. If you could learn how to monetize it, Pinterest could help you generate an income that could even replace your main income.
Now, I know you're excited to learn how to make money on Pinterest so let's dive in.
---
7 Strategies to Make Money on Pinterest
My #1 Recommended Way to Make Money on Pinterest: Make money on Pinterest with a blog
There are many ways to make money on Pinterest but the most popular and powerful way (and my most recommended) is blogging.
So, how to make money on Pinterest with a blog? The concept is simple: you create pins on Pinterest to generate traffic to your blog and monetize this traffic through different ways such as display advertising, affiliate marketing, selling your own services/products, and more.
Many things come to play when you're creating the best pins for your blog. But the basic thing to remember is to create attractive and well optimized pins which I will discuss later. When people click on your pin, they can go to your blog or website, increasing your blog traffic. Not only that, they might click on your ads, purchase through your affiliate links or directly buy your products.
Bloggers from across niches know that Pinterest holds a significant amount of force in attracting traffic, so they know Pinterest must be an integral part of their marketing campaign.
I am one of these bloggers who use this method of making money with Pinterest. Pinterest is my main traffic source and from which this blog you are reading right now makes money. My Pinterest account gets over 3m impressions and gets over 100,000 sessions from Pinterest every month.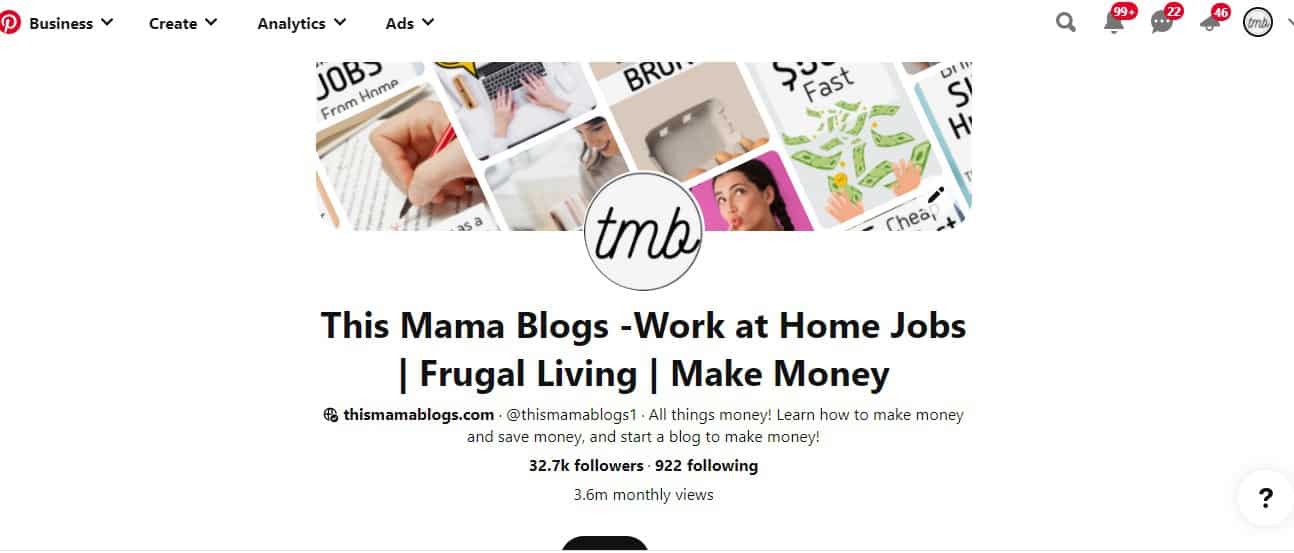 Advantages of Using Pinterest to Make Money
The beauty of using Pinterest to make money with your blog is that it is FREE to use. You don't need to pay to join and start creating pins to drive traffic to your blog. Moreover, you don't need to have millions of followers to start making a full-time income using Pinterest. In fact, you could start making money on Pinterest with a blog with only a few thousand followers.
Now if you are new to this idea, you might be wondering how to get started? Do you need an experience to make money on Pinterest with a blog? Well, here's the good news: you don't really need experience and you don't have to be a technical genius to get started. I personally started with absolutely no experience in Pinterest and blogging.
But to be transparent, it does take some upfront work to start making money on Pinterest with a blog. It is not something that you create today and expect to make money  from right away.
It even took me over 6 months to start making money from this blog using Pinterest and about a year to hit over $1000 per month in income.
However, my blog income has been steadily increasing as I wrote more and more content.  A little over a year after launching my blog, I started earning $5000-$13,000 per month from my small blog!
Important: I do not recommend quitting your job right now and do this full-time because it won't make you money right away. You can do this on top of your 9-5 job or while doing other side jobs.
How to Make Money on Pinterest with a Blog : Beginner's Guide
This post contains affiliate links. I may earn a small commission for purchases made through these links at NO extra cost to you. Disclosure.
If you want to make money on Pinterest with a blog, obviously, you need a:
 Blog
Pinterest Business Account
1.    How to Start a Blog (The Right Way!)
A lot of people get scared of starting a blog thinking you need to be a computer nerd who knows coding to be able to start a blog. Well, I'm here to tell you that these days, you do not need to be a techie to start a blog or you don't need to pay thousands of dollars to get your blog set up.
As I've always mentioned here, I didn't have blogging experience when I first started and I didn't know how to create my own blog. So, if this sounds like you, don't worry.
There are two ways to start a blog. You could go for the free route using WordPress.com / Blogger and you won't pay anything to get started. Secondly, you create a self-hosted blog, which means you pay for hosting for your blog.
However, if your goal is to make money, I DO NOT recommend this the free route because:
The company hosting your site will put ads on your site and make money from your content (instead of you making money from it!)
It would be difficult to join affiliate networks and ad networks if your site is not self-hosted.
You don't actually own your site/ domain. Your domain will look like

www.myblog.wordpress.com

.
It wouldn't look professional.
You can better customize your site when it is self-hosted. This means you can add more features that will help you improve your blog.
So, what does it mean to be self-hosted? It means your blog has its own space on the web because you are paying for it. It's yours, no one else can take it down, and you can monetize it however you want.
The good news is that it only costs as cheap as $2.75 per month to start your own self-hosted blog with Hostgator. It's what I used for two years and I can highly recommend them for beginners. If you are on a tight budget, I recommend getting the Hatchling Plan, which is the cheapest plan and all you really need to start out.  
Hostgator also offers a FREE SSL certificate and a free domain name for a year ($15 value). Plus, they offer a money-back guarantee for 30 days after you purchase your plan. You can even cancel your account within 30 days if you decide that blogging isn't for you after all.
If you need help with setting up your blog with Hostgator, I have an easy-to-follow step-by-step tutorial to help you. You can also head over directly to Hostgator through my special link here, follow the instructions on their website and sign up!
WordPress.Org Platform
Now after setting up your hosting account with Hostgator, you have the option to build your blog from scratch if you are knowledgeable in coding. But if you are still here with me reading this post, chances are you are a complete beginner with no background in coding.
Thankfully, you can create your site without any knowledge in coding using the WordPress.org platform.  
My blog is set up on this platform, and it's been one of the best decisions I made for this blog. What I love about using WordPress.org is that it is so easy to customize. There are a lot of themes available for WordPress that you can use for FREE and a lot of free plug-ins to use to optimize your site. This platform allows you to prettify your blog just a few clicks!
Please note though that WordPress.org and WordPress.com are two different platforms. Do not confuse WordPress.org with WordPress.com.
Don't worry, if you have a hosting plan already with Hostgator, then all you need to do to install WordPress.org to your blog is just one click. Just sign in to your Hostgator account, click on cPanel and click on the icon "1 Quick Install."  With just one click, you can set up WordPress.org for your blog.
Once it's installed, sign in and start making your blog pretty by selecting a theme. Install the theme of your choice, and start writing posts!
2. How to Use Pinterest to Drive Traffic to Your Blog
After writing your first few posts, you can start promoting your blog on Pinterest, but to do this, you need to have a Pinterest Business Account. Here's an easy tutorial on how to set up your Pinterest Business Account. Don't worry, you don't have to pay anything to set it up and use the platform to promote your blog.
Once your Pinterest Business account is set up, claim your website on Pinterest by following these simple steps here.
Learn how to optimize your Pinterest account!
Before we go into more details about growing your Pinterest account, I want to be transparent with you: I am not claiming in any way that I am an expert in Pinterest. What I am about to share with you are the strategies that have worked well for me and helped me grow my Pinterest account.
I can't guarantee that these strategies will generate the same results for you because there are so many factors that may affect the results of your Pinterest marketing such as your blog niche, your pins, the keywords you use when launching your pins, and perhaps the competition in your chosen niche.
However, what I can guarantee you is that if you create new posts consistently every month, consistently launch new well-optimized pins for your posts, and experiment on your pinning strategies to see what kind of pins or topics get the most impressions on Pinterest, your pins will get more and more impressions which may translate into more clicks to your blog.
1. First, Add keywords to your PInterest profile, Pins and boards
Incorporating relevant keywords to your profile, your pins and boards is a key factor in getting your pins discovered by your target audience. Using keywords strategically in your Pinterest content , including your profile, gets you in the good graces of Pinterest because you are giving value to its users.
Fortunately, finding the best keywords to use isn't rocket science. Here's a hack to nail down the best keywords to use for your pins.
Use the Pinterest search bar. Simply type in your query in Pinterest's search bar. Without hitting enter, Pinterest should show you the relevant and popular keywords and phrases related to your search. Use this to generate keywords for your individual pins and boards.
2.   Join Group Boards
Joining board groups is another strategic way to widen your pin's reach. Group boards are set to public, so the pins placed on these boards stand a good chance for better exposure. Also, people who are members of the group may re-pin your pins to other group boards, which now creates a viral effect.
Pinterest is crazy about activity and engagement. Most group boards instruct contributors to repin the pins from their boards. This means that apart from your pins being seen by a lot more people, Pinterest will also likely show pins from your board in the smart feed.
So, here are some hacks to get you into the right board groups:
Find the right boards. There are a couple of things that you must remember when finding group boards to join. First, it should be within your niche. Finally, pick group boards with less than 100 collaborators (50-20 is a great number).
Join boards with like-minded collaborators. The reason why it's best to find specific group boards in your niche is that you get to collaborate with like-minded people. This is a good way to generate targeted traffic towards your own pins.
Ask to join. Once you've searched the right boards you'd want to join, it's time to connect with the board owner. Make sure to follow the board owners so you can send them a message and get invited to their boards. Send a friendly message to the board owners, through Pinterest and email, asking them to get invited to their boards.
3. Create Attractive Pins for Your Posts
To promote your posts or blog on Pinterest, you obviously need to create pins for your posts because Pinterest is a visual search engine.
You want click-worthy pins that stand out on Pinterest so other users want to click your pins, save or share your pins. I know my pins are still not the best pins out there, but I've definitely improved my graphic design skills as I created more and more pins.
Now you don't have to be a professional graphic designer to create beautiful pins and you don't have to pay to get started. There are a few sites or tools you can use for creating your pins, but I do mine on Canva. It's FREE and absolutely beginner-friendly.
Canva offers a lot of FREE templates as well as tons of FREE images and vectors too to help you customize your pins to your liking and branding.
I recommend Canva Pro if you don't take your own photos. With Canva Pro, you'll have free access to thousands of photos, videos, and vectors to grow your Pinterest and attract more visitors. There are also thousands of templates you can use for your social media marketing.
4. Create fresh pins for your posts and save other people's pins consistently
When you are just starting out, you likely only have a few posts on your blog, so you will also need to pin other people's pins to help you quickly grow your Pinterest account. Make sure, however, to only pin articles that are very relevant to your site/blog.
For example, my blog is about making money from home and frugal living, so when I first started I only pinned topics or articles relevant to my niche. You might need to experiment on your pinning ratio, which refers to how much of your own posts are you pinning or creating pins for versus how much of other people's posts are you pinning or saving to your boards.
I personally first started pinning 20% of my own vs. 80% of other people's pins. This means if I saved 10 pins a day, I saved or made two pins for my own blog and saved 8 pins from other blogs. Today though, since I already have lots of posts, I only pin 100% of my own.
I highly suggest experimenting on your pinning ratio to find the best results but make sure not to save a lot of pins every day. Pinterest will see this as spamming and when your account gets flagged as such, you might get "banned" and your pins don't get shown to many people. Trust me on this because I once got "blacklisted" for "spamming." Worst case scenario: Pinterest will suspend your account.
---
Join My Free Blogging E-Course!
 Many readers and friends have asked me to teach them how to start a blog and make money, so I decided to create a free e-course with more actionable tips on blogging. You can sign up below for my free course to receive blogging lessons over the next 7 days. My free course covers how to create a self-hosted WordPress blog, the technical side of blogging, generating traffic and more. It's designed for beginners and it's a completely free training with bonuses inside: a Free Success Planner (Digital), and a list of profitable blog niches to select from.
6 Other Ways to Make Money on Pinterest
I understand that blogging is not for everyone. So if you are wondering how to make money on Pinterest without a blog, well you will be pleased to know there are a few more options out there. Here are some of them!
1.    Affiliate marketing
I also get a lot of questions about how to make money using Pinterest through affiliate marketing.
Affiliate marketing is an incredible business model that allows you to make money passively. The basic tenet of affiliate marketing is that you join an affiliate network or partner with brands to promote their products and services through a unique link. You insert that link into the content of your blog or pin. You will earn a commission each time someone purchases through your affiliate link.
I and numerous other bloggers love affiliate marketing because you don't need any special skill to do it successfully. You don't even need a diploma in marketing. All you need is to understand how the affiliate system works.
If you're interested in learning how to make money on Pinterest with affiliate links, there are a couple of things you have to keep in mind:
You cannot use link shorteners.
Affiliate pins should be disclosed.
You cannot use affiliate links from Amazon
I always stress that in affiliate marketing, you must only promote brands, products, or services that you believe in. You should focus on solving problems or answering questions through the affiliate product, and not do it for the sake of commission. It pays to remember that our audience is smart enough to know when you're just upselling them, and this strategy is bound to fail.
2.  Offer Pinterest services
I know having a blog is much more convenient and opens more monetization opportunities. But if you don't have one, but you are savvy enough to learn the ins and outs of Pinterest, then you can offer Pinterest services instead.
Business owners and bloggers don't always have the time to focus on Pinterest. That's why they outsource this job to Pinterest VA, who can do such things for them. If you can navigate Pinterest easily and understand how the platform works, then you can make money from Pinterest even without a blog.
So, as a Pinterest VA, your job would typically cover the following tasks:
Create graphics for pins or use the client's existing templates
Research the best keywords to incorporate into pin descriptions and board descriptions
Schedule posting of pins so they get the most engagement
Research the latest trends and best strategies to fully maximize Pinterest for the client's business
The scope of work can vary depending on your negotiation with the client. But the good thing is, managing a client's Pinterest account can prove to be a well-paying gig. Newbies may charge at least $15 per hour, while those already skilled and experienced can charge around $50 an hour.
3.  Use Pinterest to Drive Traffic to Your Online Store
Are you wondering how to make money on Pinterest without a blog? If you own an online store, you can use Pinterest to generate traffic and increase conversion rates.
What makes Pinterest more exciting for online business owners is that the audience isn't just looking, but a lot of them are already dead set on making a purchase. That means if you can get your products in front of your target audience on Pinterest, the odds of making a sale increase.
Some ways on how to make money on Pinterest by driving traffic to your online business:
Integrate Buyable Pins – you can keep your Pinterest audience within Pinterest, and have them purchase your products directly by integrating Buyable Pins. Buyers won't have to go to your online store if they see something they like to purchase from your Pinterest account, which means possibly locking in a sale quickly and easily (more on this in the next tip).
Activate Rich Pins – if you haven't enabled Rich Pins yet, it's time you do. Rich Pins allow you to add more information and keywords to the pin descriptions, which helps in generating more traffic. Unlike Buyable Pins, Rich Pins allow you to sell indirectly by generating traffic. In cases when Buyable Pins are not applicable, you certainly should enable Rich Pins.
Add a Pin button on all your products – adding a Pin button on all your products in your online store allows users to Pin (and save and share) the product into their Pinterest accounts. This pinning process allows you to gain more exposure on Pinterest and encourage more traffic to your store.
 Use Promoted Pins – if you're willing to spend some money on advertising, then you ought to use Promoted Pins. Similar to Facebook ads, Promoted Pins advertises products on the platform. You will set a daily budget for the ads, and pay on a cost-per-click basis. The beautiful thing about Promoted Pins is that you can set the ads to show to certain demographics, which allows you to narrow in on users who are most likely interested and willing to purchase your products. 
There are plenty more ways to drive traffic to your eCommerce store using Pinterest, but you should start with learning how to make money pinning on Pinterest.
4. Sell your products on Pinterest
In the previous tip, I discussed how to leverage in generating traffic to your online store. But did you know that you can actually sell products right on Pinterest? While you can always have an eCommerce website, it's not a necessity if you want to start selling on Pinterest.
What you would basically need is a Pinterest business account and Buyable Pins. These two things allow your audience to shop within your Pinterest account and make a purchase directly without visiting your business website. There are some conditions to obtaining the Buyable Pin, such as having an online store in Shopify, BigCommerce, and Salesforce.
Shoppers can purchase products directly by clicking on the "Add to Bag" button. They can check out their order, pay via credit card or Apple Pay, and all you have to do is ship the product. Pinterest doesn't even take a cut from your sales. The entire process is pretty much similar to purchasing from any other online store, so you wouldn't have to worry about anything.
Many users go to Pinterest intending to purchase, so taking advantage of this strategy works wonderfully for you as a seller. Plus, the Buyable Pins work in all internet-abled devices, so users can readily buy from your Pinterest shop, whether they're using a computer or a smartphone. 
5. Become a Pinterest influencer
When you've managed to grow your Pinterest community significantly, you can start exploring other ways how to make money on Pinterest. And one of the appealing options is to become an influencer on Pinterest.
Much like brand ambassadors on Instagram, Facebook and YouTube, you can become an influencer of Pinterest by approaching brands that align with your niche. For instance, if you love to cook and your pins are all about food and cooking, you may approach food and cookware brands to collaborate with.
But before you go about collaborating with brands, you have to make sure that your data are in order. Go to your analytics and get all the pertinent stats. You want to have the numbers to show that you have the right audience for their brand.
So how you do make money on Pinterest as an influencer?
As an ambassador or influencer on Pinterest, you have to work actively to get your audience interested in the brand that you are promoting. You might do branded pins and then post them on the appropriate boards. It's important to provide real value to your audience, so make sure to get spammy with your pins. As you establish authority in your niche, brands will have more confidence that you can help promote their businesses.
6. Offer consultant services
If you have mastered the inner workings of Pinterest and are always up-to-date with Pinterest's algorithms, you could make money on Pinterest by offering consultations.
Not a lot of people have the time to learn about Pinterest, so they approach experts instead. They also want to learn how to earn money on Pinterest, but they just don't know where to begin. So that's where you come in. By sharing your Pinterest knowledge and strategies with them, you can help these people succeed on Pinterest too. And on your end, you make money in exchange for the service.
You can create ebooks, training videos, hold webinars and classes if you like. You may also do one-on-one consultations with your students. Or you could establish yourself as a Pinterest expert, and apply on gigs on sites like UpWork.
If you're looking to increase your earning potential online, then I highly suggest learning how to make money on Pinterest. The platform is growing by the day, so that means you'll have even more opportunities to monetize it. You may start off with a blog or as an affiliate marketer, and then employ other strategies as you go. You won't get rich on Pinterest overnight, but with diligent research and consistent effort, you should begin seeing the pay-off soon enough.
Which Pinterest monetization method is your favorite and why? Let's hear your thoughts in the comments.
Read The Full Article
This Content Was Originally Posted At:
How to Make Money on Pinterest: 7 Best Monetization Methods in 2021