7 Money Earning Apps to Increase Your Income in 2021
If you are looking for a great way to make money online and don't want to spend hours or days looking for a specific method that you can use, then you should consider using one of the many money-making apps to earn money.
There are literally dozens of apps out there that can help you get started on your journey to making money online. These apps range from ones that will teach you how to make a website, how to write content in it, and to actually get a website running and make money from it. It is important to note that you will have to make every effort to learn about making money online and ensure you are doing things right—something that anyone can do with enough research and huge determination.
More and more people are learning and getting engaged with using online apps to make money. Seven of these, in particular, stand out from the crowd. These are Ibotta, Rakuten, Swagbucks, Fiverr, Upwork, Letgo, and Poshmark. Their popularity is found across every age group and every locale in the world.
1. Ibotta
Ibotta is a money-earning app that allows those who use smartphones to earn cash on purchases made online, or in-store. It basically uses the rebate system to help you save your hard-earned cash on groceries and other retail merchandise. After downloading the app, you have to submit your receipts to Ibotta to verify your purchase, and let it do its work. Along with your loyalty rewards and accounts, Ibotta can help you save and earn extra money wherever you may shop.
2. Fiverr
Fiverr is an optimum platform for anyone who does freelancing to share services with anyone interested in the world. It is basically an online marketplace where freelancers are given the chance to offer a variety of services to those that need them. If you have the talent and skills to create graphic design, make video animation, write songs or poetry, produce content, do computer programming, or even teach musical instruments, Fiverr may just be the perfect place for you. With more than 400 categories to choose from, you can definitely post the services that you offer on Fiverr and earn endless income from home.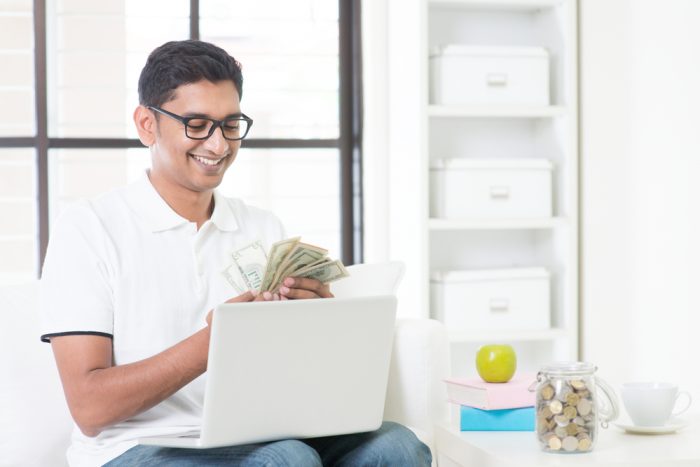 3. Rakuten
If you want to learn about earning money by getting cash back after you shop, check out Rakuten. This is an online service that helps you save money while buying things you do purchase on a regular basis. This service was previously known as Ebates; it has helped many homeowners and housewives earn some much-needed cash for their everyday spending. Rakuten works by sharing a commission from the store that you shopped at. The stores pay Rakuten for promoting their companies. Rakuten gets money from the promotion and then shares it with you every three months or so. It's a nice little cycle that sometimes includes bonuses too.
4. Swagbucks
Swagbucks is basically an app that offers rewards such as points or gift cards to anyone who performs tasks like filling out surveys or searching the internet for their benefit. If you want to watch videos, answer survey questions, or play games, Swagbucks can be a way for you to earn money online.
When you perform a task, you will be paid by means of Swagbucks points. These can be redeemed as cash or gift cards, whichever you prefer. As most of the cards come from more than 1000 retail stores, as well as Amazon and iTunes, they are quite advantageous. If you want to stick to cash, there is the option for your points to be transferred into your PayPal account too.
5. Upwork
If you are interested in doing freelance work, Upwork can be the right money-making platform for you. Upwork matches skilled people with companies or professionals looking to hire a freelancer's services. Generally, clients will post their opened employment positions on Upwork, and freelancers who are actively looking for work will be recommended for the task. Anyone from a developer and a writer, to a marketer or graphic designer, can be found on Upwork. Just check out the app if you think this is the avenue where you can make some extra income.
6. Letgo
Do you have something to sell? Do you make specialized items that you want to market across the internet? Letgo can help you with that. Basically, Letgo is an app that lets you buy or sell merchandise in your local area online. To make some cash, you can list the objects that you want to sell on Letgo and others who are registered on the platform will see it and if interested, they will buy it. Once someone sees your item and offers to buy it, you will then set up a time and place for that person to receive your item. It's like the classified ads in the newspaper, only easier and more efficient.
7. Poshmark
Poshmark is one way to sell your clothes online. It's the new way to buy fashion wear online and sell it too. If you are into the fashion world or you wanted someone to help you improve your own style, you need to check out Poshmark. For a simple way to browse through boutiques and shop from a variety of different clothing closets, you can save yourself a lot of time and money by checking out the app. Here's the perfect place for you to sell your hand-me-downs at a great price and never leave your own bedroom.
Conclusion
A lot of people are looking for ways to make money for the year 2021. With all the different apps that are available at your disposal, you shouldn't have a problem finding one that fits your lifestyle. New opportunities are available if you just do a bit of research and see how others do it too. With so many options, if you are serious about earning some money, you can be successful with at least 7 of the opportunities that are listed here.
The post 7 Money Earning Apps to Increase Your Income in 2021 appeared first on Home Business Magazine.
Read The Full Article
This Content Was Originally Posted At:
https://homebusinessmag.com/businesses/business-opportunities/7-money-earning-apps-increase-income-2021/